The world of restoration is filled with a variety of materials. Since the dawn of time, humans have been using stone as a building medium. Unfortunately, no rock is the same. All vary in density, weight, hardness and thickness. From granite to marble, differences in composition must be a consideration when undertaking a stone restoration project.
Typically stone restoration includes the removal of paint or sealants from stone substrates, as well as other surface contaminants like dirt, soot, and smoke damage. In many cases, stone substrates can change over time from weather and environmental conditions.
Stone restoration is rarely achieved by ordinary "collision-based" abrasive blasting processes due to the erosive or fracturing effects of that collision. Ordinary abrasive blasting creates vision-limiting dust from the collision of the blast medium (e.g. Coal Slag, Garnet) and the stone shattering against one another. These forces can negatively affect acoustical, structural, and visual integrity of the substrate.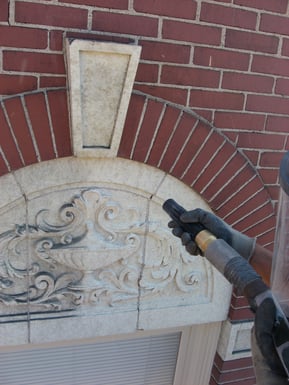 Buffering this collision energy however allows for these forces to act in a controlled manor, exfoliating embedded environmental staining rather than "blasting" it off. This "Micro-Abrades" unwanted coatings and grime, leaving a clean, structurally sound substrate.
Sponge Media™ creates this buffering effect when blasting stone. Sponge-Jet's restorative dustless cleaning process is 99% dust free, and has been effectively used for stone restoration throughout the world. Stone is a notoriously dusty medium to blast, which is why traditional abrasive blasting is rarely used in stone restoration. Many abrasive blasting industry products claim to offer low dust, dust free, or dustless blasting. In reality, no blast media is dust free, but Sponge-Media micro-abrasive is as close as it gets.
Sponge Media can remove most surface-level contaminants, bringing stone to a visibly cleaner state in one pass. Selection of the correct Sponge Media is key. To remove smoke damage,
or to brighten a dull surface, non-abrasive Blue Sponge Media can be used.
To remove paint on dense rock, brick, concrete, and stone, Silver 80 Sponge Media is typically recommended. Sponge-Jet's Silver Sponge Media™ particles consist of sponge embedded with aluminum oxide, and is perfect for high-production "Micro-Abrasion." When micro-abrading stone, cleaning occurs on the microscopic level, preserving the clean stone beneath.
Stone Restoration projects can be tricky. With as many variables that stone restoration presents, finding the right solution to removing paint, stains and other contaminants can prove to be a process filled with disappointment and unmet expectations. Sponge Blasting provides a restored finish in less time, while providing a 99% dustless blasting process allowing for visually clean stone and concrete restoration in seconds.
For Information on stone restoration projects that used Sponge-Jet, download our Compendium by clicking the button below: