The Wyandot County Courthouse (Located in Upper Sandusky, Ohio, USA) is considered one of the best preserved examples of classical, turn-of-the-century architecture. Built in 1899, the courthouse was added to the National Historic Places in 1973.
Known for its clock tower, as well as for being the setting for courtroom scenes in the classic movie The Shawshank Redemption, the courthouse is a symbol of pride for the residents of Wyandot County. When the historic building was in need of repair and renovation, a bond was passed to fund the restoration project.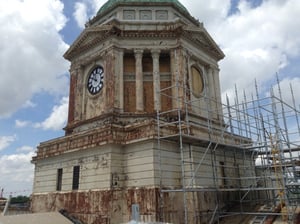 Midstate Contractors, Inc. was the general contractor for the job. Lepi Enterprises was hired as a subcontractor to remove all coating and corrosion from the cast iron clock tower and the four corner domes, as well as prime and paint these areas. The Lepi team determined that abrasive blasting with Sponge-Jet® Sponge Media™ was the perfect choice for surface preparation of the clock tower.
Sponge Media – The Right Choice
Lepi Enterprises was tasked with removing all corrosion and paint materials on the cast iron substrate, removing lead paint, and cleaning badly rusted surfaces to bare metal. By blasting with recyclable and reusable Sponge Media, the Lepi Enterprises crew was able to minimize waste, a huge benefit in a hazardous waste job where every pound matters, not only in cost, but also in environmental impact. This restoration and lead remediation work had to be completed with the courthouse fully in use during the five-month duration of the job.
No Flash Rust
In addition to waste minimization, coatings removal with Sponge Media helped Lepi avoid a common problem for historic restoration professionals: flash rust. It's not uncommon for a metallic surface to "blush" or flash rust during the period of time after a coating has been removed but before a new coating has been applied.
"[We] could Sponge Blast, leaving an area unblasted for multiple weeks before applying the coating system," explained Bumpus. This allowed for greater project efficiency as the crew was able to scaffold and blast large sections, then paint those sections weeks later, all without the use of rust inhibitors.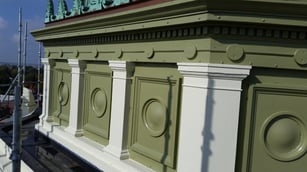 With a traditional blast media, the crew would have had a much shorter timeframe to paint after blasting, all while dealing with daily set-up and clean-up on a large-scale job.
A Relic, Renewed
The unique and intricately designed Wyandot County Courthouse and Clock Tower has been successful restored. Admirers do not need a court summons to view the exquisite interior and exterior design. Per the Wyandot County website, the Courthouse is open for self-guided tours or by calling the Wyandot County Commissioners in advance for guided tours.
Other Historic Restorations using Sponge-Jet include Lead Abatement of The United States Capitol Dome. For more information, click here or visit https://blog.spongejet.com/architect-of-the-capitol-celebrates-the-completion-of-the-u.s.-capitol-dome-restoration-with-sponge-jet