The work contractors and facility owners do using Sponge-Jet is often rewarding. Being a part of so many different applications and industries, from the building of battleships to returning fine art back into it's gilded glory, our work is often hard to top. Perhaps this has been achieved on a project as important as the restoration of the U.S. Capitol.
On Friday, December 2nd, the Architect of the Capitol celebrated the completion of the Capitol Dome Restoration Project at the Capitol Visitor Center in the Congressional Auditorium. Sponge-Jet was invited and thanked for helping to restore the Capitol Dome.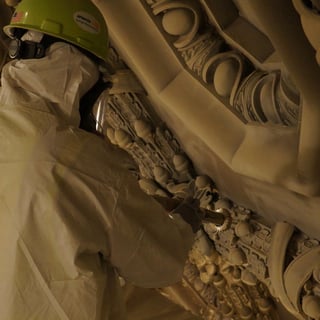 The US Capitol Dome restoration project was robust. The massive, ornate Capitol dome may look like it's made of plaster, but it's actually layered cast iron. This cast iron was coated with several layers of white lead paint. This lead paint was removed from the Capitol dome using Sponge Media™ micro-abrasives to limit airborne lead dust, and to create a profile on the cast iron for the new coating system to adhere too.
To learn more about the Dome Project, visit the Architect of the Capitol website, here
Before starting a lead project, make sure you have your bases covered. Review Sponge-Jet's Deleading and Lead Abatement Industry CYA Checklist below: