The main entrance, an extended portico, leading into the great hall of Ellis Island National Museum of Immigration (NY, USA) required a face lift. Suffering from exposure to the brackish Hudson River salt-spray, the ±625 micron (±25-mil) old coating system was failing and previewing spot corrosion over much of its steel structure.
An abrasive blasting and painting contra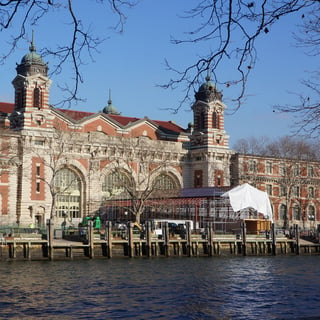 ctor was charged to remove all coatings and corrosion, leaving a SSPC SP-10 / Sa2.5 / NACE 2 - Near-White Blast Cleaning surface with a 75micron (3mil) profile; they would then apply a new coating system. With thousands of guests, organized school trips, and tour visits each day, museum officials in tandem with Department of Interior and the National Park Service rightly chose to keep the museum on its regular operating schedule. Sponge-Jet Silver 30 Sponge Media™ abrasives were used on the project for several reasons:
Restoration work would begin each evening and conclude each morning in time for the museum's daily opening at 9:30am. As a result, the main pathway and entrance had to be cleaned of debris and equipment each day. Sponge Media particles contain a porous sponge which acts to entrap most of what would become dust, making cleanup much easier compared to ordinary abrasives.

Four 100-HP Sponge-Jet Feed Units were used for blasting as well as two 35-P Sponge-Jet Recyclers. Equipment was selected based on the need for high-production and mobility (to quickly move on and off the project site).

Concern was also expressed by project management over fugitive emissions carrying into the Hudson River. Again the dust suppressing characteristic of Sponge Media abrasives, suppresses up to 99% of what would become airborne emissions.

Superior surface cleanliness with the technology's composite particles, act in a scrub-and-cut motion; the benefit of high surface cleanliness combined with the ability to achieve the abrasive specification made the decision to use Sponge-Jet abrasives an easy one.
After two weeks of Sponge Blasting and one week of coating application, the 2,300 m² (25,000 ft²) steel façade was completed. The circa 1900, Beaux-Arts masterpiece will seamlessly continue to educate visitors on early American ancestry and immigration for the years to come.