As part of New York's Central Park Conservancy project to reconstruct Grand Army Plaza, the William Tecumseh Sherman monument was brought back to life with newly applied 23.75-karat gold leaf. The monument restoration, included as part of the larger Plaza restoration project, called for the removal and reapplication of gold leaf on Augustus St. Gauden's 1903 masterpiece. The sculptor favored bright, shining monuments, and disdained the look of bronzing as it darkened with age. Unfortunately, with weather wear and time, this was happening to the Sherman monument's failed gilding.
Ranking "…among the most distinguished equestrian groups of Western art," by the 1988 book The Art Commission and the Municipal Art Society Guide to Manhattan's Outdoor Sculpture, careful restoration included the work of Caruso Painting and Decorating (NY, USA) and the Guilder's Studio (MD, USA). Caruso used Sponge-Jet Silver 80 Sponge Media™ micro-abrasives to remove the old gold leaf and priming layer and to prepare the bronze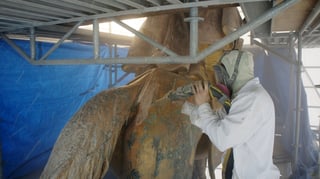 surface to receive a new coating. To refit the gold leaf, contractors needed to re-profile the substrate to 50 microns (2 mils). The coating system (consisting of primer and gold leaf (tinted with burnt umber and lampblack) was applied by the Guilder's Studio. Three additional coats of polyurethane were applied to protect the gilding from ultraviolet rays and pigeon fouling.
The General William Tecumseh Sherman, his horse Ontario, as well as the statue's symbolic beauty of peace and victory once again stands proudly in Grand Army Plaza of Central Park's Southwest corner.