Shipbuilding and marine repair is frequently heavy, hard industrial work. Manufacturing is loud and can get dirty. In a marine environment like a ship yard (which can include one or more dry docks) this process must occur within close proximity to water, posing unique challenges regarding containment and suppression of dust during the building and repair process.
Marine engineers tasked with managing ship repairs must make recommendations to ship owners on the best methods of accessing the damaged part of the ship. If cracks, corrosion, or coating failures are above or near the waterline, repairs can sometimes be at dockside. If the damage is just below the waterline, a
cofferdam may be used
. If a ship needs a more extensive repair or recoating, a dry dock may be needed.
Abrasive Blasting Near Water

Sandblasting and other kinds of abrasive blasting are often the culprit for pollution caused by shipyards. As abrasives collide with the surface, particles of media, coatings, and metal from the substrate are all launched into the air and spread throughout the immediate area. In many cases, these particles enter channels, rivers or seaways through storm drainage or during the flooding of marine railways and drydocks, where they enter the environment. Federal agencies are known to test water and shellfish near shipyards for heavy metals, antifouling ingredients and other chemical pollutants. If too high a concentration of pollutants are found in close proximity to a given shipyard, the process of levying fines could begin.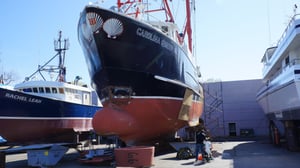 Sponge Media™ abrasives are ideally suited for shipyards and other marine repair facilities. Sponge Media limits dust created compared to ordinary abrasives while simultaneously suppressing other dust generated from blasting a surface. The composite sponge matrix of Sponge Media offers the unique characteristic of being able to remove surface containments like chlorides that are present in nearly every marine repair and manufacturing environment.