Abrasive blasting is often a dusty process. When contractors are required to blast near highly sensitive equipment or in areas where air quality is very important, they often need to sacrifice superior surface prep methods or erect extreme containment. At NASA's Kennedy Space Center in Cape Canaveral, Florida one contractor was tasked with this difficult challenge - providing the highest quality surface prep and low dust blasting with Sponge Media.
SDB Engineers and Constructors (now CorTru) had to remove the existing epoxy coating from the interior and exterior concrete block walls in the fan room of the Kennedy Center's Vertical Integration Facility (VIF). SDB also needed to prepare the concrete substrate and apply a new coating system in this very important part of the Center.
Utilizing Sponge-Jet abrasive media, the contractor was able to remove the coating, prep the surface, minimize dust, and protect the fan room and all its components.
The Air That Helps NASA Reach the Stars
The VIF is a standalone building in the middle of the NASA facility at Cape Canaveral Air Station. The fan room of the VIF generates all of the clean air that is supplied to rockets before they are launched into space. This facility is an integral part of the rocket launch process. All fans and other sensitive components and equipment must be protected at all times from all contaminants.
It was imperative that during the removal of the existing paint from the cinder block walls, dust was kept to an absolute minimum. It was also critical that dust or residue from the abrasive blasting not travel up the fan tunnel way. In other words, choosing the most effective, least dust generating abrasive blast media was one of the most important steps in the surface preparation procedures.
Meeting the Specs with Sponge Media
The job specifications required that the concrete walls be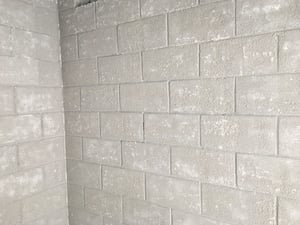 prepared to the International Concrete Repair Institute (ICRI) classification of CSP 5 (medium shot blast). In order to safely blast and remove the paint from the concrete block walls, SDB Engineers and Constructors, Inc. decided to use Sponge-Jet's Silver 60 Sponge Media instead of traditional slurry blasting.
The low dust, low ricochet, recyclability of the Sponge Media provided a safer and quicker way to clean and prepare the surface prior to recoating. The new coating was applied to the concrete surface immediately after blasting, limiting downtime.
Because the sponge media was continuously recycled, the waste and cleanup was significantly reduced. As a result, the job was completed in half the time that was estimated, without the fan room being compromised with dust and contamination from the blasting process.