In the beautiful seaside village of Niantic, Connecticut (USA), sits the historic Niantic Baptist Church. Located on Main Street and just moments from downtown, this Church is positioned at the heart of the small New England community. Unfortunately, in 2022 a fire damaged the church's interior, but fortunately, a Connecticut-based contractor with extensive restoration experience was able to help.
In February of 2022, a furnace within the church caught fire, creating a buildup of soot on the delicate tin walls and tin ceiling of the 150+ year-old building. Due to the ornate features of the tin, as well as the age of the structure, the Niantic Baptist Church was in need of a solution that was strong enough to clean the thin soot staining and remove the failing layers of paint, but gentle and precise enough to preserve the fine ornamental design.
Tasked with the challenge of the surface preparation of this detailed tin was Scholar Painting & Restoration. They determined that Sponge Media blasting would be the best method for removing the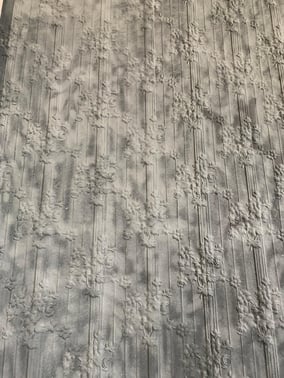 soot and paint without damaging the tin's integrity. Specifically, Sponge-Jet's Sponge Media Silver 60 was chosen as the preferred media, as it was gentle enough to preserve the tin, yet effective enough to remove the buildup of soot and remove the paint, which had an average thickness of 10 mils.
The team at Scholar Painting & Restoration had to be conscientious of keeping any media and dust out of other parts of the historic church. Further, the church's location in the center of the community placed it in close proximity to downtown, the high school, and residential properties.
Thanks to both the recyclability of the Sponge Media and the diligence of the Scholar Painting & Restoration team, they used half the amount of Sponge Media projected for the project. They were also able to easily finish the 4,400 sq/ft job in under a month - on time and under budget!
As Jon Lupachino, the project manager at Scholar Painting & Restoration said, "Sponge-Jet was an amazing company to work with. They promptly came to our job site to show us how their product works. They communicated well and paid great attention to detail. We had a pleasant experience working with them."
Due to their outstanding work on this job, Scholar Painting & Restoration will be recognized at the 2023 AMPP Annual Conference & Expo!