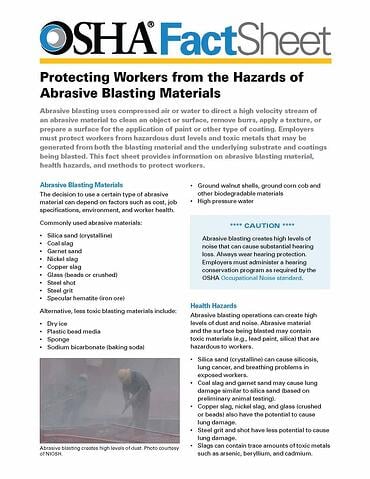 In OSHA's recent fact sheet, "Protecting Workers from the Hazards of Abrasive Blasting Materials," abrasive blasting technologies were strongly scrutinized. The fact sheet follows increasing pressure from the general public and industry watchdog groups to include a more holistic approach in protecting those working in and around abrasive blasting operations. The OSHA report discusses health hazards and worker protection methods, stating that, "Employers must protect workers from hazardous dust levels and toxic metals that may be generated from both the blasting material and the underlying substrate and coatings being blasted."
However, Sponge-Jet, the pioneering manufacturer of low-dust Sponge Media™ abrasives is covered under the "Sponge" category — a media described by OSHA to be an "alternative, less toxic blasting material…"
Sponge-Jet manufacturers over twenty types of low dust, recyclable composite abrasives media, all of which include a porous and pliant sponge component and a range of bonded, profiling abrasives or cleaning agents. These two components work in tandem to clean or profile the surface while reducing source emissions from the abrasive, the substrate and the coating being removed.
The Fact Sheet also mentions the requirement that abrasive manufacturers include health hazard information on their Safety Datasheets (SDS). It is not apparent how suppliers of the more toxic, "commonly used abrasive materials," will be affected. However, Sponge-Jet is in full compliance with the United Nations Globally Harmonized System of Classification and Labeling of Chemicals (GHS). PPE (or Personal Protective Equipment) should always be worn while abrasive blasting. Respirators should be fit tested before use.
This is recognition we should be proud of. "For two decades Sponge-Jet has been creating products that achieve the purpose of this OSHA Fact Sheet," said Sponge-Jet President, Michael Merritt. "The take-away from this publication is that there is an alternative to ordinary blasting methods that can achieve high-quality profiling while reducing dust and rebound at the source of generation."
The fact sheet notes several different kinds of slag abrasives (including coal slag) contain beryllium, a toxic metal. OSHA has a seperate ruling that relates to airborne silica dust which can cause silicosis.
For a copy of the OSHA Fact Sheet, click here.
Today, organizations worldwide are seeking less harmless methods to traditional abrasive blasting techniques so they can leave a cleaner environmental footprint, protect their workers, and more efficiently conduct business operations. If you are involved in a project that will require abrasive blasting and needs a sustainable, safe solution, contact Sponge-Jet today to learn more about our clean, dry, low-dust, reusable abrasive blasting technology and its proprietary benefits.