Today, corrosion control is a major consideration for industries worldwide. From bridge maintenance, lead abatement, marine operations, and nuclear remediation, to aerospace, aviation, and power generation, there is a growing demand to enlist equipment sensitive, worker-friendly, environmentally conscious solutions to meet surface preparation challenges.
This means organizations everywhere are seeking safer abrasive blasting methods to eliminate, substitute, or isolate traditional, environmentally damaging techniques used in large-scale operations. The goal: reduce exposure limits to hazardous airborne particulate that is polluting the landscape and impacting worker health.
NASA and Abrasive Blasting
As we know, all metal structures require scheduled maintenance to protect against corrosion. However, for an organization like the National Aeronautics and Space Administration (NASA), this means an even greater challenge. With both manned and unmanned space programs subject to highly and moderately corrosive environments, NASA must maintain its equipment more regularly than many other organizations.
So, to remain compliant with federal, state, and local environmental regulations, NASA must reduce and eliminate conventional coating removal systems that generate hazardous waste and costly disposal fees.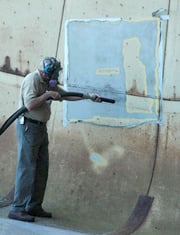 NASA Report Selects Sponge-Jet® as Alternative Low-Emission Surface Preparation Technology
To increase environmental stewardship, NASA conducted a 3-year study on the "Cost-Benefit Analysis for Alternative Low-Emission Surface Preparation/Depainting Technologies for Structural Steel."
Within this analysis, large-area structural steel applications for launch pads, test stands, and ground support equipment were scrutinized against alternative abrasive blasting technologies, systems, and standards. Both economic value and effectiveness was considered when it came to the following 3 alternatives:
Environmentally acceptable chemical strippers
Light-based technologies
Recyclable media
Test data collected at NASA's Stennis Space Center in Mississippi compared plastic blast media, hard abrasive media, portable laser coating removal, liquid nitrogen, mechanical removal with a vacuum attachment and Sponge Media™ composite abrasives. Field-testing and final evaluation rated each technology based on ease of use, surface cleanliness, surface profile, waste and particulate generation and substrate damage. For each alternative abrasive blasting technology, rigorous testing also produced a baseline for unit costs, direct costs, environmental activity costs, and total life-cycle costs.
Upon final analysis, Sponge-Jet was selected by NASA's Acquisition Pollution Prevention (AP2) Office as the "superior technology." The report concluded:
"Sponge-Jet® (as demonstrated) proved to be a low-dusting alternative that achieved adequate paint strip rates on carbon steel. Other benefits of Sponge-Jet® include the high recyclability of the media, ease of use, and the high levels of worker visibility."
In a recent statement, Sponge-Jet Marketing Director Tony Anni, responded to the test results, saying:
"While we are not surprised with the results, we are honored to be included in this NASA Pollution Prevention Office Joint Test Report… and to be regarded as the highest-rated solution is the culmination of our efforts which date back to the early nineties."
To download a PDF file of the Joint Test Report from the NASA web site, click here.
______________________________________________________________________________
Today, regulatory bodies and public interest groups are urging and requiring organizations worldwide to seek safer methods to traditional abrasive blasting techniques so they can leave a cleaner environmental footprint, protect their workers, and more efficiently conduct business operations.
If you are involved in a project that will require abrasive blasting, contact Sponge-Jet today to learn more about our clean, dry, low-dust, reusable abrasive blasting technology and its proprietary benefits.