Exciting news from Sponge-Jet…We are releasing our second model designed to handle the rigors and challenges that paint and blasting contractors face while maintaining the versatility they require.
The new portable 470 Contractor-Grade (CG) Sponge-Jet Feed Unit™ is the same, high-quality Sponge Media blast pot but designed with the contractor's need for value, budget and abrasive velocity. Contractors can blast for over an hour uninterrupted, depending on the application and nozzle type.
This customizable and versatile model includes core components from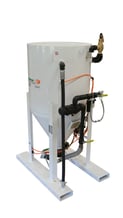 Sponge-Jet's newest "SJ" line of Feed Units and uses the same twinline deadman connections that fit Sponge-Jet's standard blast hose, and remote deadman safety systems. Contractors can also easily add secondary components to change operating characteristics.
Portability was a major consideration for the Research and Development Team during design. A built-in steel pallet-base accommodates ease of fork truck transportation and maneuverability. The base is also sized like a standard shipping pallet – for cost-effective standard transportation.
This system is very versatile. The 470-CG Feed Unit can be used with any of the twenty-plus Sponge-Jet Sponge Media™ products. Contractors can switch from aggressive Grade D Rust removal and profiling with Red G-40 Sponge Media abrasive then minutes later switch to a lightly aggressive Silver 320 Sponge Media™ designed for the uniform treatment of detailed surfaces. When working in industries where fine-tuning of the blast pot is needed (e.g. Historic Restoration) the 470-SJ Feed Unit is a better fit as the 470 SJ Model has integrated, full scale pressure adjustment capabilities.
Sponge-Jet's Sponge Media products are engineered composite abrasives and cleaning media containing a range of abrasives or cleaning agents impregnated in industrial-grade sponge. Sponge Media (or sponge abrasives) remove coatings and surface contaminants while limiting dust and other airborne particles created during the abrasive blasting process creating a 98% dustless blasting environment. Dustless blasting is a term commonly used to describe blasting that creates less dust (or fugitive airborne emissions) compared to ordinary blasting methods.
To order a 470 Contractor-Grade (CG) Sponge-Jet Feed Unit™, please visit the Sponge-Jet Distributor Locator Page found here: https://www.spongejet.com/find-rep/