Conservators frequently turn to Sponge-Jet for help on historic restoration projects when there is a need to control dust, clean masonry substrates, or remove hazardous lead paint from steel and masonry. Some restoration projects include all of these challenges. Contractor R.J. Forbes faced this kind of multifaceted restoration project at the Breakers Mansion basement, tunnel, and boiler room in Newport, Rhode Island (USA). The project had several phases, including cleaning whitewashed brick and removing lead paint from steel beams all while visitors toured the property above the restoration site.
The famous mansion, once owned by the Vanderbilt family and built on the edge of the Atlantic Ocean was designed in the Beaux-Arts style of Architecture by famed architect Richard Morris Hunt. The Breakers original construction began in 1893 and was completed in 1895. In 1994, the home became a National Historic Landmark. Now owned by The Preservation Society of Newport County, hundreds of thousands visit The Breakers every year, making it the most visited tourist attraction in Rhode Island.
Due to the mansion's popularity, restoration contractor R.J.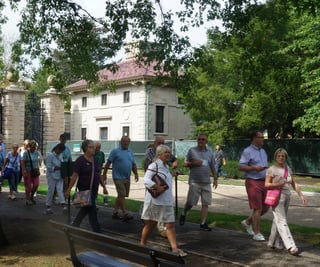 Forbes was faced with the daunting task ofcleaning and rejuvenating various substrates while tours were being conducted on the estate's main level. Though the work was being done in the basement, part of the project involved abatement of lead paint on the structure's steel beams. Using Sponge Media™, the lead was primarily contained at the abrasive's point of impact, lowering worker exposure and preventing lead particulate from migrating throughout the mansion and its surroundings. Any remaining airborne lead dust particles were captured by negative air machines.
The project specification originally called for use of Dry Ice blasting as the method of cleaning. RJ Forbes was able to persuade the building owner (The Preservation Society) to switch the specification from dry ice blasting to Sponge-Jetting because of Sponge Media's ability to both achieve the desired specifications and not damage the surface as is typical of Dry Ice blasting. It's increased versatility - both cleaning brick and its ability to clean and profile steel using the same blasting equipment added to the cost effectiveness of this solution. The steel needed to be cleaned to a SSPC SP-10 "Near-White Blast Cleaning" level of substrate cleanliness, which is not achievable with dry ice nor paint strippers — this was achieved with Silver 30 Sponge Media.
Masonry restoration of the brick was a key objective for this project. Brick walls in the basement had most of the original whitewash, so keeping this whitewash intact while cleaning the brick surface and removing any loose mortar before repointing was of utmost importance. Since the Breakers Mansion is so close to the ocean, removal of corrosive surface chlorides was an added benefit of using Sponge Media. Brick restoration is not done with regular abrassives as it can cause microfissures in masonry substrates. Sponge Media's unique composite sponge matrix allow for the historic restoration of these surfaces using otherwise discouraged abrasive blasting techniques.

Contractor, RJ Forbes was able to complete this project much faster with Sponge-Jet than if they had followed the original specification for Dry Ice Blasting. Blasters are able to clean more area with sponge media than with Dry Ice Blasting. Additionally, dry ice blast media sublimates (turns from solid to gas) if it's not used quickly enough, creating rigidity of schedule. Sponge Media does not have this shelf-life limitation and therefor provides great flexibility on site.
The great work of R.J. Forbes has allowed Breakers' guests new access that they have never had before. The Preservation Society of Newport County is now offering a new "Beneath the Breakers" tour exploring the underground tunnel, boiler room and basement of the Breakers Mansion.