In February 2019, work began on the decommissioning of the Battery Street Tunnel in Seattle, Washington. Completed in 2022, this project was a huge undertaking that included removing the tunnel's utility and mechanical systems, removing decades of automotive soot buildup from the tunnel, filling the tunnel, and sealing its entrances.
Removing Leaded Carbon Soot with Sponge Media
Contractor Crystal Soda Blast LLC was tasked with removing the thick soot from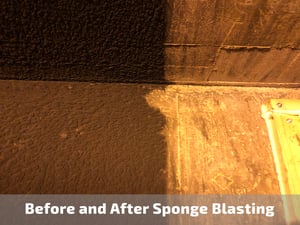 the ceiling of the tunnel. The build-up of carbon exhaust included lead deposits, so the job was considered a lead abatement project.
Sponge-Jet was chosen as the method of removal for the carbon soot. The primary rational being that the sponge blasting process is an environmentally friendly and low dust alternative to other abrasive blasting or sand blasting methods. By using recyclable Sponge Media, Crystal Soda Blast was able to drastically limit the amount of contaminated abrasives introduced to landfills.
The efficiency of the Sponge-Jet process was another reason that Sponge-Jet was an excellent fit for the decontamination component of the job. According to Bryan Cordes of Crystal Soda Blast, the Sponge-Jet process allowed the team to achieve clean surfaces at a faster than projected rate. The higher production rate allowed them to complete the blasting portion of the job ahead of schedule.
Containment and Safety
The Battery Street Tunnel is actually two tunnels, with one two-lane tunnel going southbound and the other two-lane tunnel going northbound. For the carbon soot removal job, each tunnel was divided into three separate containment sections of approximately 800 feet (250 meters) each.
According to Cordes, because of the air exchanges, the entire tunnel could not be contained in one section. "In all, there were six containment sections (three per tunnel). So, each tunnel had approximately 2,400 lineal feet (730 meters) of containment," said Cordes.
In addition to the sponge media blasting team, other trades were working in the tunnel in preparation for its decommissioning. Although, the Crystal Soda Blast crew was the only team working within the containment sections, other workers could be nearby blasting with limited risk.
Sponge Blasting, Effective and Efficient
Overall, using Sponge-Jet Sponge Media for the removal of the carbon soot on the ceiling of the Battery Street Tunnel was the right choice for this project.
​"The result was something that everyone was happy with, and using sponge media was a safe and environmentally responsible alternative to traditional abrasive blasting, especially with the existence of lead deposits," said Cordes.
Click here to sign-up for the first of three Lead "CYA" Checklists.