Sponge-Jet's abrasive blasting process is unique in that it can be used in areas where traditional abrasive blasting would quickly be ruled out. Power generation, oil and gas, and other industries have embraced the use of blasting with Sponge Media™ abrasives for its ability to achieve high-quality surface preparation and consistent anchor profiles in dust prohibitive environments, even in potentially explosive atmospheres – where combustion of flammable liquids, vapors or combustible dusts exist.
To ensure a product is safe for use in areas where combustion is possible, many industrial professionals turn to products that meet ATEX directives. ATEX is the name commonly used for European directives (recognized internationally) for controlling explosive atmospheres. IECEx is sometimes used in North America, but does not include certification for impact generated ignition sources. ATEX compliant products meet a series of essential health and safety requirements and conformity assessment procedures before it is ever available in the market place. They define these areas into equipment categories. For example, ATEX has a Zone 0 for the most flammable atmospheres and Zone 22 for areas with less risk for combustion.

Sponge-Jet's newest Feed Unit™, the 170-EX conforms to ATEX Directive 94/9/EC for work in Zone 2 and 22 environments, by meeting ATEX Equipment Category 3. ATEX Zone 2 is defined as "A place in which an explosive atmosphere consisting of a mixture with air of flammable substances in the form of gas, vapor or mist is not likely to occur in normal operation but, if it does occur, will persist for a short period only."
The 170-EX includes all of the features from Sponge-Jet's most popular sponge blasting unit, the 170-SJ, but with several new and improved safety features and component upgrades. Some of which include several ATEX-certified components like extreme-environment grounding cables, non-sparking couplings, and a stainless steel frame. The Sponge-Jet 170-EX unit is a portable, efficient, and powerful alternative to wet blasting or bristle blasting in ATEX environments.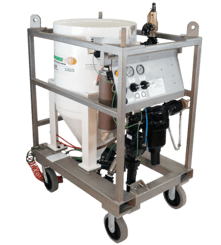 If you want to improve efficiency over wetblasting or hand-tooling in potentially explosive environments, take a look at sponge blasting. Sponge-Jet's equipment is used in more than 20 industries, and in over 108 countries. For more information, or to find a Sponge-Jet Distributor near you, click here.