Im Rahmen des New Yorker Central Park Conservancy Projektes zum Wiederaufbau des Grand Army Plaza wurde das William Tecumseh Sherman Monument mit einer neuen Beschichtung aus 23,75 Karat Blattgold zu neuem Leben erweckt. Die Restaurierung des Monumentes, die im Rahmen des größeren Plaza-Restaurierungsprojektes durchgeführt wurde, sah das Entfernen und erneute Auftragen von Blattgold auf dem Meisterwerk von Augustus St. Gauden aus dem Jahr 1903 vor. Der Bildhauer bevorzugte helle, leuchtende Monumente und verachtete das Aussehen von Bronze, das sich im Laufe der Zeit verdunkelt. Allerdings ist der Vergoldung des Sherman-Monuments durch Wind und Wetter und den Lauf der Zeit genau dies passiert.
Das Monument zählt nach dem im Jahr 1988 veröffentlichten Buch The Art Commission and the Municipal Art Society Guide to Manhattan's Outdoor Sculpture "…zu den bedeutendsten Reiterdarstellungen der abendländischen Kunst". Die sorgfältige Restaurierung umfasste Arbeiten von Caruso Painting and Decorating (New York, USA) und des Guilder's Studio (Maryland, USA). Caruso verwendete Sponge-Jet Silver 80 Sponge Media™ Mikroabrasion-Strahlmittel zum Entfernen des alten Blattgolds und der Grundschicht sowie zur Vorbereitung der Bronzeoberfläche für die neue Beschichtung. Für die Wiederherstellung der Blattgoldschicht mussten die Auftragnehmer die Trägerschicht auf eine Formgebung von 50 Mikron (2 mil) vorbereiten. Das Beschichtungssystem (bestehend aus Grundschicht und Blattgold, getönt mit gebranntem Umbra und Lampenruß) wurde vom Guilder's Studio aufgetragen. Außerdem wurden drei zusätzliche Polyurethanschichten hinzugefügt, um die Vergoldung vor ultravioletten Strahlen und durch Tauben verursachte Verunreinigungen zu schützen.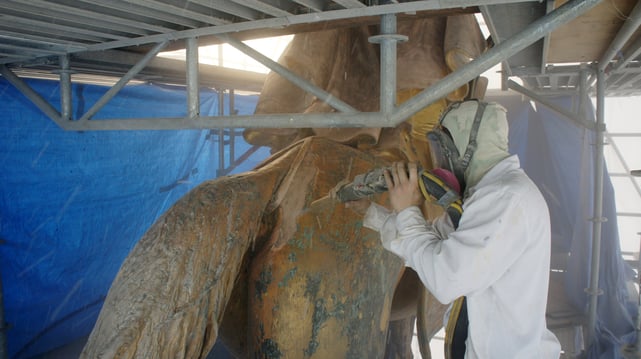 General William Tecumseh Sherman, sein Pferd Ontario sowie die symbolische, Frieden und Sieg vermittelnde Schönheit der Statue erstrahlen nun wieder stolz auf dem Grand Army Plaza in der südwestlichen Ecke des New Yorker Central Park.